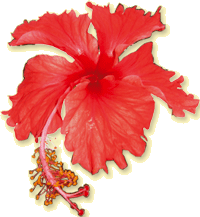 Tips & Links
Lake View Bungalows are ideally situated in the Khao Lak area, with numerous points of interest and natural attractions within a short drive. The local beaches and centres of Khao Lak, Bang Niang, Pakarang and Khuk Kak all make for interesting days spent exploring.
There are several waterfalls in the area, including Chong Faa and Sairung hire a bike for the day and make your way into the jungle, park up and walk through to the waterfall where you can spend the day swimming, relaxing, and climbing up to the higher levels of the waterfalls.
Surfing, golfing, biking, trekking all sorts of activities are available for the more adventurous; or if you would prefer a more chilled out day why not experience a traditional Thai massage, sauna, or any of the other relaxation treatments available in the area we'll be happy to show you the best spa facilities locally.
We're on hand at any time to advise on activities, point out the best places to buy your holiday souvenirs, book trips for you, direct you to pristine beaches and secluded local restaurants or bars.
Please don't hesitate to enquire, and we'll do our utmost to ensure your stay is enjoyable and unforgettable!


Day trips can be arranged to the nearby national parks of Khao Lak LamRu and Khao Sok jungle walks, elephant trekking, kayaking, diving and boat trips to the Khao Sok Lake are all available. Spectacular caves and unique rock formations abound in this area, take a longtail across the lake and just sit back and enjoy the scenery.
Khao Lak is also the gateway to the famous Similan Islands. With world-class diving and snorkelling at your fingertips, just ask for advice on dive trips and courses, day trips and longer liveaboards are available to the Similans, plus islands further afield such as Koh Bon, Koh Tachai and Richelieu Rock.